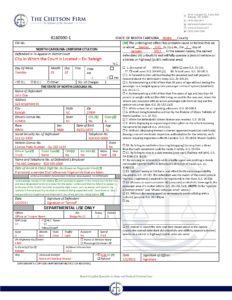 If you've been stopped while driving or cited for a crime, chances are that you have received a North Carolina Uniform Citation, a single page document that, front and back, explains the charge or charges that have been issued against you.  If you've received a citation, you haven't been arrested and detained, but you have been charged with an offense that may require you to personally appear in court.
By clicking on the image to the left you can see a full version of a sample Uniform Citation that provides explanations in red regarding the different notations made by the officer who charged you with an infraction or misdemeanor.  By clicking here you can see an explanation of the other fields that have been filled out on your citation.
Once the citation is issued to you, you must respond by or at the court date that is indicated on the form.  In most cases, you will personally need to appear, unless you hire a lawyer and unless that lawyer informs you that your presence is not required.
Some infractions may be resolved through North Carolina's online ticket system, and without the representation of an attorney.  While we handle more serious cases – murders, drug trafficking, sex offenses, assaults, and white collar crimes – we do sometimes handle lower level offenses on a case-by-case basis.
Keep in mind that even misdemeanors and traffic infractions can have serious implications.  For instance, failure to comply with a traffic offense may result in an order for arrest, the suspension of driving privileges, and potentially additional costs and fines.
Misdemeanors may themselves involve much more serious consequences.  For instance, sexual battery, a class A1 misdemeanor in North Carolina, carries with it a requirement that the person register with the North Carolina Sex Offender Registry.
It is important that any citation is handled appropriately to prevent these collateral consequences from affecting driving privileges, your livelihood and even. your freedom.
Citations for Infractions or Misdemeanors
North Carolina has three levels of criminal offenses, two of which can be charged by in this manner.  Infractions – certain speeding offenses and traffic violations – are the lowest type of offense, do not involve jail time, and are not technically crimes in North Carolina.  However, failure to comply with infractions can create additional criminal consequences – for instance, ignoring a speeding ticket will trigger a driver license suspension which then will result in misdemeanor crimes if the person continued to drive on a suspended license.
Misdemeanors can also be charged by citation, including serious misdemeanors such as Driving While Impaired.   While DWIs almost always result in arrest, an officer may not arrest a person being cited.  The failure to arrest doesn't lessen the seriousness of the charged crime.  The officer may merely have decided that arrest is not necessary, and may simply give the citation and inform the person of the next court date.
Felonies are not charged by citation.  Felonies require arrest (or surrender) and will result in an arrest warrant being issued by a magistrate or judge which then is usually served on the defendant by an officer or deputy sheriff.  Felonies (and misdemeanors) may result in pre-trial detention until the conditions of release can be satisfied.
A person should save the citation and, if hiring a lawyer, provide a copy of the citation to the lawyer so the lawyer can understand the charges, the time of the arrest, the location of the arrest, and any other details noted by the officer on the citation at the time of the arrest.
For more information on your citation, you can visit the North Carolina Citation Lookup page.