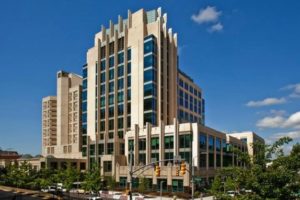 As of July 2013, Wake County moved its criminal courthouse from the previous courthouse on Fayetteville Street.
The new courthouse (called the Wake County Justice Center) has many more elevators, has escalators to lower level floors, and, best of all, a lot of natural light.
The old courthouse will be dedicated to mostly civil matters, and is undergoing its own partial remodeling.
The new Wake County Justice Center is laid out differently from the old courthouse.

Download the PDF to the left for a list of courtrooms in the new Wake County Justice Center and how the correlate to courtrooms used in the Wake County Courthouse.

Download the PDF to the right for a guide on how to come to court at the new Wake County Justice Center. Talk to your lawyer about how he or she wants you to be prepared to come to court before acting on any of the information in this guide.
---
Raleigh criminal lawyer
Damon Chetson
defends people charged with felonies, misdemeanors, traffic and DWI charges in Raleigh, Cary, Apex, and Wake County, NC. Durham Criminal Lawyer Damon Chetson also represents people charged in Wake County, Durham County, Orange County and Chatham County. The Chetson Firm is available day or night, weekdays or weekends. Call day or night for a free consultation (919) 352-9411.